So how do you order this style of tile? You first select a COLOR palette, 1, 2, 3 colors or color family (Blues, greens etc.). Then style, design theme, etc. You may use any of our glass tile for block application. If you are doing a new installation there are a wide variety of ultra clear blocks that our tile look amazing on, but the regular block work well too. You can even do an application that looks like stained glass with out the heavy lead lines.
We can design a shower application, knee wall, window.......... What ever your installation calls for. We either send out a selection of samples, or just zap pictures of what we have come up with. Or if you like anything you have seen in these pages, we produce them.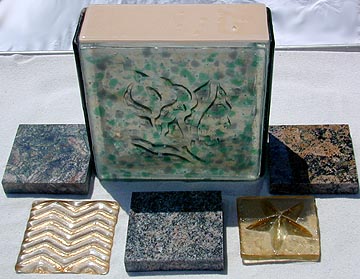 Glass tile with a Pattern or Color or relief design is a perfect addition to a glass block installation. If it is a new install, you can add lighting in between the layers of the block. This is a great concept. It helps unify so many elements in a room. The tile may be full face on the block, a partial medallion or an end cap.
We suggest using a u-v setting glue or a narrow border application of a clear silicone caulk. Some glues require regular checks to see that they are maintaining adhesion, & may require re-gluing.
Bas Relief Calla Lily in a stone coordinate glass on a glass block with a solid end cap on the top.
Primary Confetti Tile, Floral vignette Tile, Individual Toast Relief Tile